Daily Archives:
May 11, 2015
In essence, to reduce violence and to increase peace, we must address the direct, cultural and structural elements, with cultural aspects possibly the most crucial. And if we fail to address all three, the strategy is incomplete.

Robert J. Burrowes Global News Centre
(TASMANIA)  If you are interested in learning more about the meaning of, and the relationships among, direct, structural and cultural violence and how one peace studies scholar suggests we use the integrative power of nonviolence to address violence constructively, then I suggest you read the new book by historian, playwright and novelist Professor Timothy Braatz called 'Peace Lessons'. http://www.amazon.com/Peace-Lessons-Timothy-Braatz/dp/0692303758/ref=sr_1_28?s=books&ie=UTF8&qid=1429793285&sr=1-28&keywords=Peace+lessons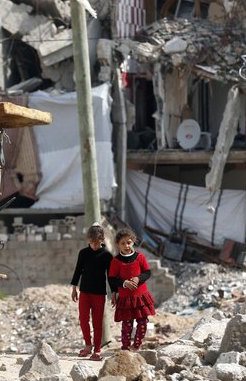 The evil of injustice in Gaza is an especially insidious evil because it is largely ignored by those in a position to confront it. It was the injustice in Gaza that brought Carter and Brundtland to Israel and Palestine.

Dr. James Wall Global News Centre
(CHICAGO)  Former President Jimmy Carter has concluded his trip to the West Bank area of Palestine. He "deeply regretted" that he was unable to visit the Gaza enclave of Palestine.
President Carter traveled with former Norway Prime Minister Gro Harlem Brundtland. It was their fourth Elders' mission to Israel and Palestine since 2009.