Daily Archives:
December 15, 2015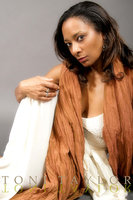 Tim King Global News Centre/Executive Editor
John the Baptist is traditionally depicted in the animal skins and sackcloth of a wild man in the desert, but this artist's depiction of the prophet is quite different from most traditional pictures of John.
Here he wears the clothes and displays the symbols of his class before a background of a vast universe of shining stars, artfully depicted by the artist Toni L. Taylor, giving John a spiritual importance denied him by many centuries of scholarly neglect. It is fitting that his countenance be that of Ace Knight, one of the leaders–if not the foremost leader–of the movement to restore John to his true importance in religious history.