Daily Archives:
February 17, 2019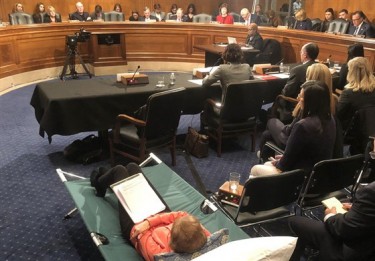 Let me know Senator Alexander when you will be holding a hearing for family members to testify how their loved ones were prescribed dangerous opioids, became addicted and died because of criminal marketing by pharma. 
Marianne Skolek Perez, Investigative Reporter
(MYRTLE BEACH) On February 12, the National Director of Policy and Advocacy for the U.S. Pain Foundation testified at a hearing of the U.S. Senate Committee on Health, Education, Labor, and Pensions. The hearing "Managing Pain During the Opioid Crisis" was chaired by U.S. Senator Alexander.   The National Director arrived on the Senate floor laying on a cot and at the point of testimony, transferred to sitting in a chair.  In 2015, she had testified in front of the U.S. Senate laying on a yoga mat holding a microphone.