Tag Archives:
Nuclear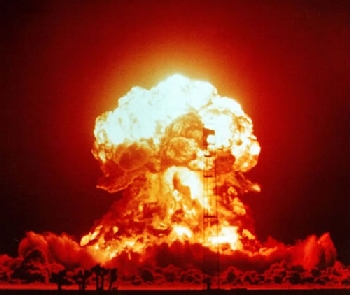 "Down in New Mexico we were trav'lin' along.  Stopped in Los Alamos, didn't stay long,  But we wanted to see the scene of the crime  Where they made the A-bomb and then created a shrine."—From Keeping the Peace, by singer-songwriter Sara Thomsen
By Gary G. Kohls, MD
(DULUTH) 70 years ago this week (July 16, 1945), an assortment of foreign scientists, the original group of which were mostly refugees fleeing European fascism, succeeded in exploding the first experimental atomic bomb.
The site of detonation of the plutonium bomb (which was essentially identical to the one that ambushed and destroyed Nagasaki a few weeks later on August 9) was in the desert outside Alamogordo, New Mexico. The site of the blast was to become blasphemously known as the Trinity Site. Trinity was the code name for the experiment and the Manhattan Project was the code name for the US Army's secret project to develop atomic bombs, with the stated intent to use them against military targets in Nazi Germany. That is, until Germany surrendered before any of the bombs were ready to launch.