Monthly Archives:
March 2019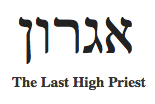 NEW RESEARCH HERE: FORENSIC SCRIPTURES MANIFESTO 13
FORENSIC SCRIPTURES MANIFESTO 13
The Key and The Sublime Quran 5
Global News Centre Special Report 
According to section 3 in the work entitled אגרון Sayyidina Yahya or the Black Chief reclaims his position of rank amongst the prophets in the Quran.
He was, is, and always will be the spiritual head of the prophets. His name means life …what's bigger than life? Leonardo Da'Vinci's last and favorite painting was that of John the Baptist, and that's not because  he was eating insects and honey in the woods my friends. -Ace Knight founder of  I Love Black Art 
Here he wears the clothes and displays the symbols of his class before a background of a vast universe of shining stars, artfully depicted by the artist Toni L. Taylor, giving John a spiritual importance denied him by many centuries of scholarly neglect. It is fitting that his countenance be that of Ace Knight, one of the leaders–if not the foremost leader–of the movement to restore John to his true importance in religious history.
-Shaykh Muhammad Nur Abdus Salam