Monthly Archives:
March 2019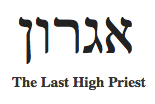 Global News Centre Special Report 
According to section 3 in the work entitled אגרון Sayyidina Yahya or the Black Chief reclaims his position of rank amongst the prophets in the Quran.
He was, is, and always will be the spiritual head of the prophets. His name means life …what's bigger than life? Leonardo Da'Vinci's last and favorite painting was that of John the Baptist, and that's not because  he was eating insects and honey in the woods my friends.  —Ace Knight founder of  I Love Black Art 
Here he wears the clothes and displays the symbols of his class before a background of a vast universe of shining stars, artfully depicted by the artist Toni L. Taylor, giving John a spiritual importance denied him by many centuries of scholarly neglect. It is fitting that his countenance be that of Ace Knight, one of the leaders–if not the foremost leader–of the movement to restore John to his true importance in religious history.
-Shaykh Muhammad Nur Abdus Salam  
FREE INFORMATION
If the FDA under Woodcock's direction is to be the "watchdog" of the American people in keeping them safe from dangerous drugs, maybe it's time for the pit bull to be terminated in the interest of saving innumerable lives.

Marianne Skolek Perez, Investigative Reporter
(MYRTLE BEACH) Janet Woodcock, MD is the Director of the Center for Drug Evaluation and Research (CDER) at the Food and Drug Administration (FDA).  CDER determines what drugs are safe and effective to improve the quality of life for people in the United States and is promoted as overseeing testing in clinical trials.  However, clinical trials are more often than not conducted in the labs of the maker of the drug — not in the labs of the FDA.  The FDA relies on the pharmaceutical testing lab to advise of the outcome of their clinical trials.