Monthly Archives:
January 2019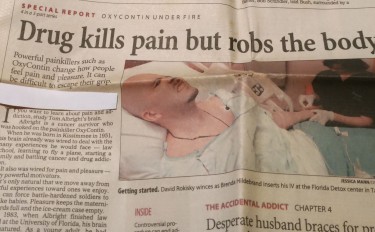 Was critical information withheld that potentially could have saved hundreds of thousands of lives to addiction and death as billions of dollars were put in the pockets of the perpetrators and their benefactors?
Marianne Skolek Perez, Investigative Reporter
(MYRTLE BEACH)  Attached are photos of the front page of The Orlando Sentinel who did an explosive series in October 2003 on Purdue Pharma and their deadly new drug, OxyContin. The series exposed the criminal marketing of OxyContin by Purdue Pharma in a 5 part series. You will not find this series on the Internet. Fortunately I have copies of the newspapers and will protect the name of the journalist who I consider a hero for the investigative work put into the series. The journalist was an award winning writer, who as a result of this series, caused Purdue Pharma to threaten The Orlando Sentinel and the journalist was unceremoniously terminated.