Tag Archives:
Pakistan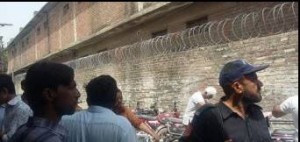 Behar Colony is the second largest Christian residential area in Lahore and Lahore is the second largest city of Pakistan. 
Global News Centre
(LAHORE)  Friday, armed men opened fire on a missionary institution, St. Franciscan High School, in Behar colony Lahore . One student and two security guards were injured and have were hospitalized. Students and faculty panicked in the school as gunmen fired.
The unidentified gunmen began firing and as the guards on duty outside the school intercepted, they were caught in the firing and injured . The students of the school were directed to leave the school premises.   The investigation is underway. The Churches and Christian institutions already have been warned about security threat from hardliners.
Behar Colony is the second largest Christian residential area in Lahore and Lahore is the second largest city of Pakistan.
On Wednesday, Nouman Masih, a 14 year old young Christian boy, lost the battle of life in Mayo Hospital. He was set on fire by an unknown men after inquiring about his Christian faith.
On 1st April, brother of human rights defender Mr. Sardar Mushtaq Gill, head of LEAD (Legal Evangelical Development) miraculously survived after being attacked and shot by a Muslim man in his lower back .The perpetrators have not yet been arrested and the police refused to provide security.  Mr.Gill's life was threatened due to his legitimate and non-violent human rights work which he has performed constantly in recent years.  His life has been at risk, as well as his family's.  Yet he says he is wholeheartedly determined to stand in the support of victims of violence and to raise his voice against the violation of human rights in Pakistan.
The Christian School of Pakistan became the target of uncalled for violence again.  On 24 March,  two masked motorcyclists opened fire on policemen guarding St. Peter's Catholic Church and High School in the Girja Chowk area of Township, Lahore.  Gunshots left two people  injured.
These shooting incidents come after the two churches were attacked by the suicide bombers in Youhanabad, the largest Christian locality in Pakistan.
In the church attacks, young Akash Bashir, who was on duty as a voluntary security guard outside the church, lost his life while attempting to stop a suicide bomber from entering the Church.  21people were killed in that attack.
After a lynching of two suspects, the government started a crackdown against Christians.  This included arresting activists and a number of Christians from Youhanabad and surrounding areas.
The Christian minority, a poverty-stricken community in Pakistan, constantly is marginalized and victimised by such violence.The extremism is the main reason for violence against religious minorities.  It is time to eradicate religious extremism and discrimination from the society to achieve a peaceful atmosphere where justice can prevail and rule of law should be implemented.  The religious minorities should be given equal rights and should be treated equally before law.
Our request for you all first pray and then to stand in our support and raise your voice for religious liberty which is beibg made more worsened and against the religious extremism and terrorism.  Our work for justice will be more strengthening with your practical support.
In Solidarity,
LEAD
Support Our work